Isn't it crazy how quickly cellphones have taken over? Every year my new shiny phone shows major changes! So many apps and designs! Its like my phone knows me - gets me whatever I want with a tap! Like those UX and UI designers who are always changing mobile app designs. Guess what, they're always thinking about what we do and what we want!
What's a company's worst nightmare after launching their brand new, fancy mobile app? They're terrified you'll play with their app for two minutes and forget about it! Are you like me? I fiddle with the newest apps for awhile, and it's either my new bestie, or else Peace Out! App guys need to Win. Us. Over.
With 2018 in full swing, I've been looking at this year's hottest trends in mobile apps.
Less is More
There's nothing worse than opening an app and being completely bombarded with chat boxes, colors, and flashy stuff. Why can't it just be simple anymore? Well, it looks like this year is all about apps with a minimalist design. Phew! The less distraction and clutter, the better. This also applies to color schemes, layout, and intuitive button placement.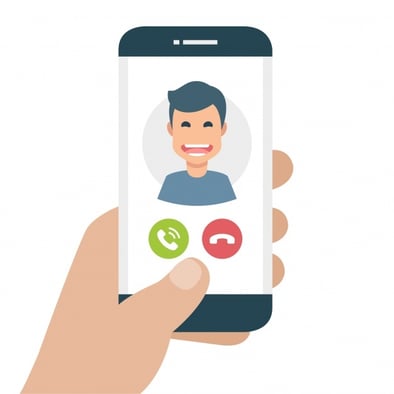 Why is this so appealing? Beyond the obvious reasons, you are probably less inclined to be drawn to the glam that comes with so many applications. Instead, all the flair that designers implement - from pop-up chat boxes to bold tools - can be distracting.
So, designers should look to make their apps intuitive and user-friendly, while leaving breathing room for you to explore the ins-and-outs of their designs. I definitely like this "less is more" approach, don't you?
Pinch and Drag and Tap - Oh, My!
Remember when using your finger to tap on your smartphone screen was new and amazing? I pinch, tap, drag, and drop your fingers to navigate my phone all day long. It's almost like my smartphone is an extension of my brain; it practically knows what I want.
Why you probably love tapping on your phone's screen:
I mentioned the bit about my phone being attached to my brain, right? It's like you can navigate anywhere on your phone and it knows exactly what you want.

It's fast! I barely have to think when I touch the screen of my phone. A few taps and BOOM,

I've got Chinese food delivered to my door.
Naturally, mobile apps are hopping on the bandwagon. This year you can expect more in-app finger action to be integrated into app designs. What does this mean? You will be able to download new apps and navigate them just like your smartphone.
Today you were probably swiping, pinching, dragging, zooming, and tapping. Are new gestures on the rise? I think so. This coming year, I wouldn't be surprised to find that a designer has integrated a brand-new gesture into the latest mobile app.
Animation that Moves
Have you seen some of those weird, random animations that some apps have just for the visual appeal? I've looked at those and wondered, "why doesn't this smiling pen do anything?" Well, mobile app designers are finding ways to bring those animations to life in 2018. (Well, not really to life, but at least functionality).
This means you will be able to click on these integrated animations like tools within the application. Maybe it's a built-in, animated calendar or an interactive, talking head. The sky is the limit!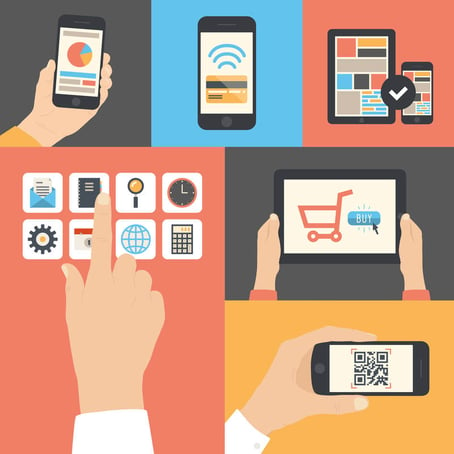 Functional animation is especially important for applications that incorporate multi-tasking capabilities, and we could all use help multitasking. How, you might ask? Animations can make certain situations easier to understand and visually clearer by walking you through processes or answering questions.
What does this look like? Imagine an animation that can answer any of your questions:
What is the next step?

Where should I click?

Have I completed the action?

What does this mean?
These coming animations are more bite than bark.
It's About YOU
I absolutely love being pampered with personalized treatment, don't you? Well, why can't this be the same in the world of technology? Over the past few years, Google and other search engines have recorded data from us sailing the internet. They share information that you've entered into your computer to advertise to us. Kind of creepy, right?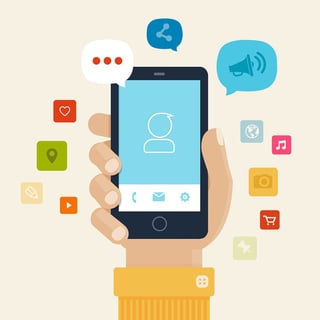 You've probably seen those little advertisement boxes on the right-hand of your screen, showing that pair of boots that you almost bought that one time, now at a bigger discount. Well, Google and other businesses can track your steps and advertise to you or remarket products that you've already looked at. Because of this approach, you may receive offers and ads that fit your personality and purchasing behavior patterns. If you visit that designer dress website often, don't be surprised if you get an ad for one of their cocktail dresses at 25% OFF! You probably respond better to this approach than if a random ad pops up on your screen.
App designers are always finding ways to integrate this personalized touch to your experience by paying attention to what you are doing within their apps. Whether you are scrolling though the news or staring at a retailer's sales, this "consumer journey" is recorded and mobile app designers respond to your activity by customizing your experience. This year you won't have to combat as many push notifications or repeatedly search for the same information over and over again. Your apps will be so attuned to what you like and where you navigate on your phone.
Don't be surprised when businesses share personalized offers and incentives with you through through your apps. If you fit into their demographic and behavior type, you will be targeted! No more blind advertising. Prepare to be swooned.
First Impressions
It's kind of like when you first meet your partner's parents; first impressions always matter, even in the tech world. There are so many new apps to choose from, it takes more than a high rating and cool logo to draw you in. This year, designers will try to win you over right away.
You like fast technology, right? If an app loads quickly, you're probably more likely to stick around. With a few quick taps, you expect your application to load seamlessly, and this year, you can expect mobile app designers to be racing the clock with loading speed.
Designers call this "progressive onboarding," which is a mobile app trend in 2018 that is a make-or-break addition. By seeing how cool an app within minutes of opening, you will probably keep the app, and maybe even Tweet about it.
Augmented and Virtual Reality
You've seen those Alien vs. Predator-looking headsets all over the internet - VR and AR is here to stay. And virtual reality (VR) and augmented reality (AR) games and apps are becoming more common. Remember SnapChat and PokemonGo? Those apps were just the beginning.
This year designers are becoming even savvier with the integration of both VR and AR into mobile apps, so you can expect even more pizazz. Maybe someday soon you'll be able to open your apps to navigate unseen places, learn a new skill, or enter realities unknown. Twilight Zone anyone?
Healthcare, real estate, and retail businesses would be smart to jump on this moving train, and they probably will. AR and VR can offer you a real-time experience, navigating what these businesses have to offer, without leaving the comfort of your own bed. Imagine getting to checkout a VR version of your next apartment with a few taps on your smartphone, still wearing your favorite bunny slippers. The more realistic, the better.
I'm sure designers and developers will be working closely together to undertake the task of developing these types of VR and AR mobile apps, especially as more and more tech companies pop-up.
On-The-Go
Everyone is always in a hurry. There's hardly time to grab your coffee. So, as your running around blogging at cafes, businesses have to meet you on-the-go. What does this mean for 2018 mobile trends? You can expect more on-demand apps.
Remember last weekend when you called an Uber, or last night when you had those vegan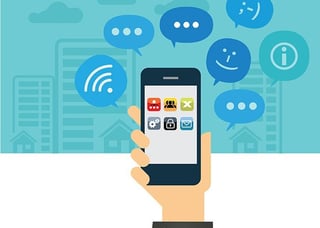 burgers delivered to your door by using your apps? The good news is you can anticipate even more apps like this in 2018. Whether it's laundry, food services, or clothes for the weekend, an app is sure to follow. Businesses that want to remain relevant and hip in the marketplace will need to join the club.
Mobile Apps You Can Wear
As you become more like Batman, sporting tons of cool, wearable gadgets, you can expect apps to follow suit: (No pun intended). Your mobile apps are expected to be integrated into your fancy-smancy devices. Whether it's a VR headset or a smartwatch, you will be able to use the apps you love even more.
Imagine smart homes, health care, automotive, and other businesses integrating their mobile apps into newer, wearable technology. Pretty cool, right? Since you're always on the go, you'll be able to use your smartwatch to deliver food, even when you're out for a jog. Batman would be jealous.
Last year was a whirlwind year, but 2018 is about to be the hottest year for mobile app design and technology. Are you ready for it?
At HammockWeb, we have a digital marketing team that is always up-to-date with the latest design and development trends for web and mobile applications. If you're looking to give your business a boost, and want to work with a team that knows how to deliver the highest quality applications, we are only an email or phone call away.